When you're running a web design business (or any business for that matter) there are things that you need to purchase on a regular basis. As web designers we always are purchasing domains, setting up hosting accounts, upgrading our computers, buying office supplies, etc. The bottom line is we have to spend money on these things to keep our business going.
While we work hard and are fortunate to earn a pretty comfortable living as web designers, I'm still a savage bargain shopper and love to save money whenever I can. So I want to share how I get cash back on the things that as a web designer I need to purchase on a regular basis (and how you can too!)
So unless you love to leave money on the table…keep reading!
There are a lot of companies that you're likely already doing business with (or have at least heard of) that give cash back on the things that you need to purchase regularly for your web design business.
Take GoDaddy for example. Did you know that you can get 5% cash back on your GoDaddy purchases? Think about how many domains you purchase for your clients or other GoDaddy products that you purchase for them and how nice it would be to get 5% cash back on each.
How do you get cash back for your purchases?
Simply sign up for a FREE Ebates account!
Click below to sign up:

In case your not familiar with Ebates, they are a free membership site that a ton of major retail companies partner with. Think of Ebates as essentially an affiliate of these companies. Ebates helps drive traffic to these sites and the stores pay them a commission for sending Ebates members to their websites. Then Ebates shares a cut of the commission with you. Once you make a qualifying cash back purchase, the money will be credited to your Ebates account. They'll also give you a $10 bonus after you make your first purchase! It's also worth mentioning that Ebates is an extremely reputable company and has an A+ rating from the Better Business Bureau.
Getting Started
Once you've signed up for an account, you'll have access to all of the retailers that partner with Ebates and will be able to see their cash back offers. When you have a purchase to make there are two ways to activate / receive the cash back offer.
Option 1:
The first way to activate the cash back offer is to login to your Ebates account, search for the store that you need to make a purchase from (such as GoDaddy) then click on the Shop Now link. This will redirect you to the site of the company (such as GoDadddy or HostGator) and from there just make the purchase as you normally would.
Option 2: (Recommended option)
There are free Ebates browser extensions for Firefox, Chrome and Safari. Simply install the extension in the browser of your choice and you are good to go. Anytime you search for a site that gives cash back, the offer will display directly in the search engine results. If you take a look below you'll see the 5% cash back offer in red. Once you click on the link and are on the company's site it will prompt you to activate the cash back offer.
You can also go directly to the company's website and if there is a cash back offer it will display in the top right hand corner of the site and prompt you to activate it. See below.
Companies That Will Give You Cash Back!
There are tons of major retailers that have partnered with Ebates. Below I've listed the companies (along with their current cash back offers) that as a web designer you're likely already doing business with on a regular basis.
Domains / Web Hosting:
GoDaddy:
Gives 5% cash back on most purchases.

HostGator:
Instead of giving a percentage back based off of your order total, HostGator gives $30 back on several different packages, including WordPress hosting and Reseller Packages (which essentially means your getting the first month of your reseller package for free.)
Click below to sign up:

Office Equipment:
Best Buy:
Best Buy doesn't give cash back on everything, but it does provide 1% cash back on MacBooks and iPads and also runs additional cash back offerings on various products throughout the year, such as 2% cash back on HP printers.
Apple:
While Apple does have a cash back program, it currently doesn't offer cash back on new MacBooks, iMacs or iPad purchases…which is disappointing. However, it does give 2% cash back on accessories and refurbished items.
Walmart:
The percentage of cash back that Walmart offers varies based off of product category. They give 5% cash back for electronics. So if you're in the market for a new computer, printer or some other type of electronics for your office I'd recommend checking out Walmart.com first to see if they carry the electronics that you're shopping for.
Click below to sign up:

Marketing Materials:
Vistaprint
Have an order to place for you or your client for marketing materials such as business cards, pens or magnets? With Ebates you'll get 3% cash back on your order from Vistaprint.
Staples Copy / Print Services:
Running a promotion and have brochures or flyers that need to be printed? Well you'll get 6.5% cash back if you place your order through Staples.
Click below to sign up:

Office Supplies:
While a lot of the products that web designers purchase are digital such as plugins, themes, etc., there are still supplies such as printer cartridges, printer paper, pens, etc., that we still need to purchase. If you have an office space where clients come to see you, there are even more supplies / equipment that you need to buy.
Office Max / Office Depot:
Both Office Max and Office Depot offer 3% on all purchases with the exception of Gift Cards, store pickup orders and business division services. In addition to basic supplies like pens and paper, if you have an office space that clients visit, be sure to keep in mind that Office Max sells things like coffee, snacks, cleaning supplies and toilet paper…and that you can be earning 3% cash back on it all.
Walmart:
Walmart provides 1% cash back on office supplies. So obviously Office Max and Office Depot offer more cash back on office supplies, however, Walmart's prices are typically lower than Office Max / Office Depots, so when it comes time to make a purchase, in order to get the most savings you'll need to compare the price of the product and then factor in the percentage of cash back.
Click below to sign up:

Make sure you never miss out on your Ebates cash back!
Important: If you're not logged into your Ebates account when you make that purchase, you're not going to get any cash back and that's just sad.
Let's face it during a typical work day, whether it's working on a new client project, moving a website, writing quotes, contracts, etc., we web designers are performing a constant juggling act. In the midst of a chaotic day, when you need to make a purchase you're probably so busy that you'll forget to make that purchase through Ebates unless you have something to remind you. Which is why I recommend (above) installing an Ebates browser extension. This makes it super easy for you remember to activate the cash back offers and earn money back on your purchases.
What Are You Waiting For?
Start earning cash back on the purchases that you're already making for your business (and personal purchases as well!)
Simply sign up for a FREE Ebates account!
Click below to sign up:

And start making it rain with your cash back!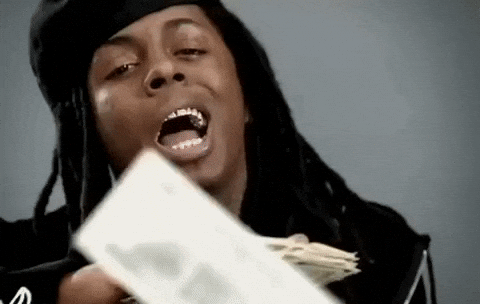 Disclaimer: All retailers / cash back offerings included in this article reflect what the cash back offerings were at the time I wrote this article. So the current cash back offerings available from Ebates may be different, be sure to login to your Ebates account to see the current list of offerings.
More Posts You Might Like
Get notified when we publish new posts and download a free gift right now!