What are you doing this weekend? Instead of binging Netflix, what if you learned how to go from making $ to $$$ in your web design business? This post will show you something cool that we've been using for years.
---
Being successful in web design comes down to one thing… how much value can you provide to your clients? It's one thing to build a static website that looks pretty ($), it's another thing to be able to build a pretty database driven website that with multiple custom post types, post type relationships and custom searches that solves a major problem the business has ($$$).
Since 2013 I've had a secret weapon.
It feels kinda "infomercialy" to say that but it has helped me build Inspired and Outsmart Carbs and even build an automated business machine. While making stuff for me is great, my secret weapon has helped me make more money on jobs I do for my clients, here are some recent examples:
Pool maintenance company needs a way for their mobile technicians to indicate when they are done maintaining a pool and note any issues? No problem! $$$
Apartment building complex wants residents to login and see their rent bill and pay it online and submit a work order that goes to the maintenance department? Sure! $$$
Insurance company wants to build a employee portal that displays different information depending on the department the employee is in? Yup! $$$
See what I mean? Instead of just building a nice website which would give me $, I can solve a problem that the business has and make $$$.
It's about time I tell you what it is… it's a special set of plugins collectively called Toolset.
Want proof that I really use it? Here's my Order History screen:
This post isn't about how awesome Toolset is but if you've never heard of it, here is some intro text copied from their website:
Custom WordPress Development For Non-Coders: Posts and pages aren't enough for every site. When you need more, Toolset is the answer. Toolset lets you build your own listing sites, directories, membership sites and shops.

Create Custom Interactive Sites: Toolset allows you to build interactive sites, where visitors and members can edit content with front-end forms. With Toolset Forms and Access, you can create custom directory and classified sites and your own membership sites.
What all this means is that you can finally go beyond making static websites and make websites that actually do something without becoming a programmer.
AKA: instead of charging $ you can now charge $$$.
Now that you know about my little secret and what it does, go get yourself a copy of Toolset. I know it's expensive if you are just starting out but I highly recommend you get the Agency license because that lets you use it on UNLIMITED websites. That's important because you want to be able to offer advanced functionality to all of your clients and having to pay $69 for EVERY SITE will cut into your profit.
On to the new free Toolset course that comes with your membership…
---
This course will teach you Toolset
For the most part, people hate reading long-ass amounts of boring text so Toolset (and Joe) made a smart decision and created 16 short videos. Each video has a little introduction, link to a Glossary and a summary.
Each video looks like this:
The videos start from the very basics of Toolset and work you up to creating a site that displays Soup recipes using a custom post types (with custom fields), a custom search and Post relationships. If you have no idea what all that means, don't worry because in just a few hours you'll be making sites with all that functionality.
To keep you organized, there is a button you can press to indicate that you've finished that step, this adds a little green check to that video: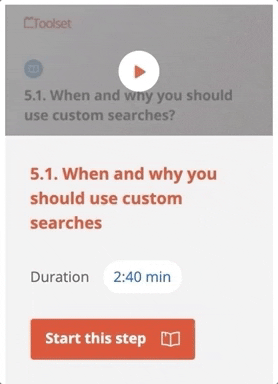 These videos are organized into these five chapters:
Introduction to Custom Types
Creating Custom Types
Displaying Content Types
Connecting Different Types of Content
Creating Custom Searches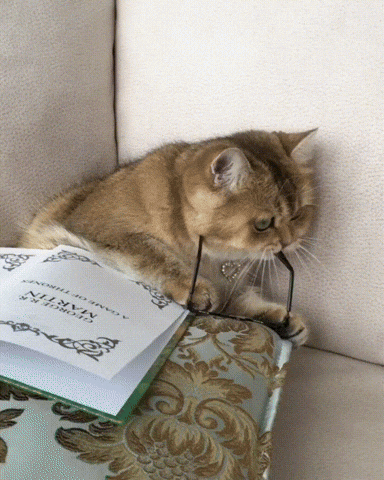 Like I mentioned above, I've been using Toolset for years and even I learned a few things while reviewing the Toolset course such as (this will make more sense to you once you start using Toolset):
You can use the Gutenberg block builder to build layouts in Views (I always use Beaver Themer, but the Gutenberg interface seems nice)
In the Gutenberg block editor you can add custom CSS (I always put it in the Customizer)
Post relationships are incredibly useful (I wasn't that good with the relationships but this video helped a lot)
What's even better… this course only focuses on a tiny bit of what's possible in Toolset. Like I mentioned in the intro, Toolset is actually a group of plugins that work together that allow you to do some pretty amazing things and this Toolset course cover the essentials of "Types" and "Views"… however there are many other plugins in the Toolset family like:
Layouts
Blocks
Forms
Access (I used this one a lot in the Learn Gravity Forms course)
Maps
Commerce
and more!
---
What I would tweak
This course is overall amazing and it will definitely help someone who has never used Toolset build a site with some great database functionality, however there are few things I would tweak:
They don't show you a few important things.
Example: In Video 5.3 they didn't show you how to display your search fields in columns or how to place the submit and reset button next to each other (as opposed to stacked) but the video magically shows it as being laid out this way.
They don't take into consideration the real world.
When you build a database driven website using Toolset and start using it, certain things become a problem. For example, see this nice grid of soup recipes:
What are the chances that all your soup images will be the same size and all your recipe names will be about the same length in characters? That's not gonna happen buddy. More than likely you'll have two about the same length and then you'll have a recipe name like "My Mom's Super-Secret Christmas and Anniversary Dinner Meatball & Pepper Soup". What happens to the columns then? #disaster
You'll always need a little something extra.
Once you get started using Toolset you'll come across a seemingly simple little thing that you think "should" be easy… but it won't be. What if your client doesn't want all the results showing when there is no URL variable. Maybe you want to display the amount of times a recipe has been viewed? Want to redirect a form with a URL variable?
These types of little things will require you to submit a ticket and eventually have one of their support staff write a few lines of PHP for you. The support staff is AWESOME and they are always very patient and helpful but I would love to see a "PHP Snippet" section of this course this gives the basics of PHP and shows how to write and tweak (let's say) the top 15 requested things that require a little php snippet.
---
You need this Toolset Course
Without knowing how to use Toolset I wouldn't be able to create (income generating) solutions to the various problems my clients ask me to help fix. Being able to make a little custom application to do something unique really boosts your confidence level and helps you take on bigger and more profitable jobs.
To sum it all up, Toolset makes you feel like Mark Zuckerberg while making you look like Mark Wahlberg to your clients.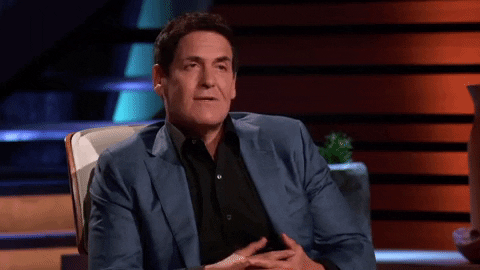 No… no… no… that's the wrong Mark.
Can we teach you everything we know?
The Web Designers Academy is a training system that teaches you everything you need so you can run a profitable location-independent web design business. This is how we are able to travel around the world.